3D printer / skrivare Vertex nano sett
Byggvolym: 80 x 80 x 75 mm / 3,15 "x 3,15" x 2,95 "
Watch this product and we will notify you once it is back in stock.
3D printer / skrivare Vertex nano sett
Byggvolym: 80 x 80 x 75 mm / 3,15 "x 3,15" x 2,95 "
REVOLUTIONERAD 3D-UTSKRIFT PÅ NANO-STORLEK
Baserat på noggrannheten och användarvänliga karaktären hos den första Vertex 3D-skrivaren ger vi dig Vertex Nano.
Denna mindre version kombinerar de senaste teknikerna för att skriva ut raffinerade 3D-objekt på max. 8 x 8 x 7,5 cm / 3,15 "x 3,15" x 2,95 "på ett snabbt sätt.
Därför är det den perfekta 3D-skrivaren för dig som vill doppa tån i 3D-utskriftsvärlden!
Detta DIY 3D-skrivarsats är perfekt för tillverkare som redan har lite erfarenhet av 3D-skrivare och som vill göra en från grunden.
Ju bättre du bygger detta kit, desto bättre blir dina 3D-utskriftsresultat!
3D-UTSKRIFT FÖR DIG
Vertex Nano är Velleman Projects tredje generationens 3D-skrivare.
Tack vare vår erfarenhet har vi lyckats hålla den nya 3D-skrivaren korrekt och öppen källkod men i en kompakt och prisvärd design.
Specifikationer
Utskrift:
Utskriftsteknik: Fused Filament Fabrication (FFF)
Lagerupplösning: standard: 0,1 mm (maximalt: 0,2 mm - minimum: 0,05 mm)
Byggplatta: 80 x 80 mm / 3,15 "x 3,15"
Byggvolym: 80 x 80 x 75 mm / 3,15 "x 3,15" x 2,95 "
byggplattans yta: Metallplatta med BuildTak ™ (förbrukningsvaror, säljs också separat)
Utskriftshastighet: 40 mm / s
Körhastighet: 70 mm / s
Glödtrådens diameter: 1,75 mm
Tryck: PLA, ABS (testning med andra pågående material)
Aximal munstycksdriftstemperatur: 245 ° CM
Munstycksdiameter: 0,35 mm (enda huvud)
Programvara:
Firmware: Modifierad Marlin 3D-skrivare med öppen källkod. Firmware - användaruppgraderbar
Programvara: Repetier - CuraEngine - Slic3r (kompatibel med RepRap)hårdvara:
Mått: 230 x 150 x 160 mm / 9 "x 5,9" x 6,3 "
Ram: robust, metallram
Vikt: 2,3 kggenomsnittlig ljudnivå under drift: 45dB (A)
Omgivningstemperatur: max 25 ° C
Lagringstemperatur: - 10 ° C till + 40 ° C
Elektrisk:
Kommunikation: ett SD-kort för direktutskrift och en USB-anslutning för uppdateringar
Styrkort: AVR ATmega2560 baserad
Display: 4 x 20 tecken. blå LCD med vit bakgrundsbelysning
AC-ingång: 100-240 V ~, 50 / 60Hz
LED-belyst logotyp
Kolla in vertex3dprinter.eu för mer info!
Ta en titt på monterings- och användarmanualen på manuals.velleman.eu eller kolla in monteringsvideon här:
Gillar du 3D-utskrift men inte att bygga en? Kolla in vår Vertex Nano monterade 3D-skrivare!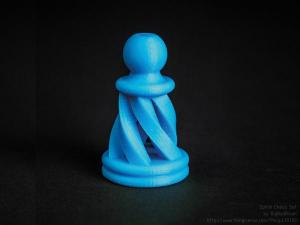 Check out vertex3dprinter.eu for more info!



Take a look at the assembly and user manual on manuals.velleman.eu or check out the assembly video here:



Are you into 3D Printing but not into building one? Check out our Vertex Nano assembled 3D printer!